#43366582 -
Young smiling woman with variety of fresh vegetables and fruits
© T.Tulic

- Portfolio ansehen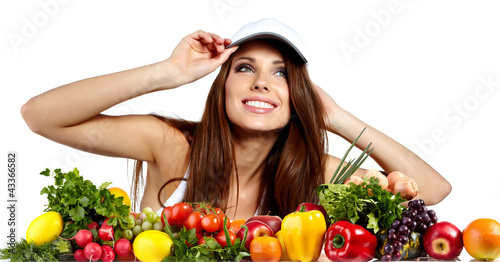 Preise
Information
Beschreibung
Größe (?)
Pixel / Zentimeter
Preis
Download

Credit Download

XS Standard

479 x 251 (0,1 MP)

16,9 cm x 8,9 cm (72 dpi)

2 Credits
S Standard

958 x 501 (0,5 MP)

33,8 cm x 17,7 cm (72 dpi)

6 Credits
M Standard

1905 x 997 (1,9 MP)

16,1 cm x 8,4 cm (300 dpi)

12 Credits
L Standard

2659 x 1392 (3,7 MP)

22,5 cm x 11,8 cm (300 dpi)

16 Credits
XL Standard

4129 x 2161 (8,9 MP)

35,0 cm x 18,3 cm (300 dpi)

20 Credits
Erweiterte Lizenz

4129 x 2161 (8,9 MP)

35,0 cm x 18,3 cm (300 dpi)

100 Credits
Laden Sie dieses XL Bild im Abonnement für nur

0,16 €

herunter!
Abonnieren
Autor
T.TulicPortfolio ansehen
Bildnummer
43366582
Land
Polen
Repräsentative Kategorie
Menschen Ohne Kontext Frau
Konzeptionelle Kategorie
Wohlbefinden Gesundheit Gesund leben
Keywords

["balance","banane","brokkoli","caucasian","di\u00e4t","essen","frau","freudig","frisch","gem\u00fcse","genu\u00df","gericht","gesicht","gesundheit","haare","hand","h\u00fcbsch","isoliert","jung","knoblauch","kohl","konsument","lang","lebensmittelgesch\u00e4ft","l\u00e4chelnd","mohnbl\u00fcte","m\u00e4dchen","obst","orange","organisch","pampelmusen","pfeffer","pflanze","roh","sch\u00f6n","shoppen","tomaten","vegan","veganer","vielfalt","weiblich","weintraube","wei\u00df","zitrone","zitrusgew\u00e4chs","zwiebel","\u00e4pfel"]

balance banane brokkoli caucasian diät essen frau freudig frisch gemüse genuß gericht gesicht gesundheit haare hand hübsch isoliert jung knoblauch kohl konsument lang lebensmittelgeschäft lächelnd mohnblüte mädchen obst orange organisch pampelmusen pfeffer pflanze roh schön shoppen tomaten vegan veganer vielfalt weiblich weintraube weiß zitrone zitrusgewächs zwiebel äpfel Alle Keywords einsehen
Das Foto "Young smiling woman with variety of fresh vegetables and fruits" von T.Tulic ist bei Fotolia lizenzfrei schon für 2 Credits erhältlich (ab 0,74 € pro Credit).
Dieses Foto ist als JPEG erhältlich und kann für zahlreiche professionelle Zwecke (mehr Info) und in verschiedenen Auflösungen (bis zu 4.129 x 2.161 Pixel bei 300 DPI) heruntergeladen werden.
Der Anbieter dieses Bildes T.Tulic hat noch 9.348 Bilder mit dem gleichen Model und 14.051 Bilder aus der gleichen Serie.
Um dieses Foto herunterzuladen, können Sie Fotolia Credits kaufen oder ein Abonnement abschließen. Im Abo gibt es Bilder schon ab unglaublichen 0,16 € pro Bild!