#41326560 -
Close up of Blue and Yellow Macaw, Ara Ararauna
© Eric Isselée

- Portfolio ansehen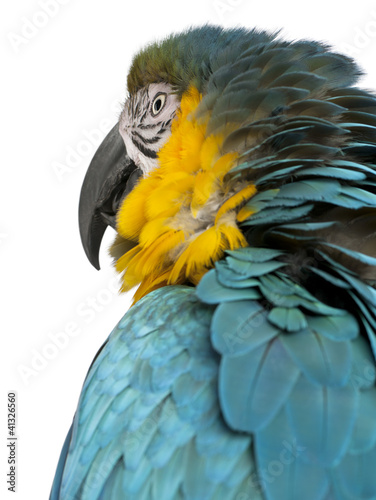 Preise
Information
Beschreibung
Größe (?)
Pixel / Zentimeter
Preis
Download

Credit Download

XS Standard

300 x 400 (0,1 MP)

10,6 cm x 14,1 cm (72 dpi)

1 Credit
S Standard

601 x 799 (0,5 MP)

21,2 cm x 28,2 cm (72 dpi)

3 Credits
M Standard

1195 x 1590 (1,9 MP)

10,1 cm x 13,5 cm (300 dpi)

6 Credits
L Standard

1667 x 2219 (3,7 MP)

14,1 cm x 18,8 cm (300 dpi)

8 Credits
XL Standard

2421 x 3222 (7,8 MP)

20,5 cm x 27,3 cm (300 dpi)

10 Credits
XXL Standard

3912 x 5207 (20,4 MP)

33,1 cm x 44,1 cm (300 dpi)

12 Credits
Erweiterte Lizenz

3912 x 5207 (20,4 MP)

33,1 cm x 44,1 cm (300 dpi)

100 Credits
Bilder in Größe M schon ab 0,50 €!
Laden Sie Bilder in der Größe M oder XXL, Vektor-Dateien oder Videos innerhalb eines Monats mit unseren monatlichen Abonnement-Paketen herunter!
Autor
Eric IsseléePortfolio ansehen
Bildnummer
41326560
Land
Belgien
Repräsentative Kategorie
Flora & Fauna Tiere Vögel
Konzeptionelle Kategorie
Wissenschaft & Natur Natur Wildnis
Keywords

["allein","animal themes","blau","close-up","federn","gelb","head shot","isoliert","macaw","niemand","one animal","papagei","r\u00fcckansicht","schnabel","sittich","studio shot","tier","vertikal","v\u00f6gel","white background","wild","wild animals","wildlife","wirbeltiere"]

allein animal themes blau close-up federn gelb head shot isoliert macaw niemand one animal papagei rückansicht schnabel sittich studio shot tier vertikal vögel white background wild wild animals wildlife wirbeltiere
Das Foto "Close up of Blue and Yellow Macaw, Ara Ararauna" von Eric Isselée ist bei Fotolia lizenzfrei schon für 1 Credit erhältlich (ab 0,74 € pro Credit).
Dieses Foto ist als JPEG erhältlich und kann für zahlreiche professionelle Zwecke (mehr Info) und in verschiedenen Auflösungen (bis zu 3.912 x 5.207 Pixel bei 300 DPI) heruntergeladen werden.
Der Anbieter dieses Bildes Eric Isselée hat noch 10.818 Bilder aus der gleichen Serie.
Um dieses Foto herunterzuladen, können Sie Fotolia Credits kaufen oder ein Abonnement abschließen. Im Abo gibt es Bilder schon ab unglaublichen 0,16 € pro Bild!