#40814398 -
Front view of a student walking with a backpack and books
© WavebreakmediaMicro

- Portfolio ansehen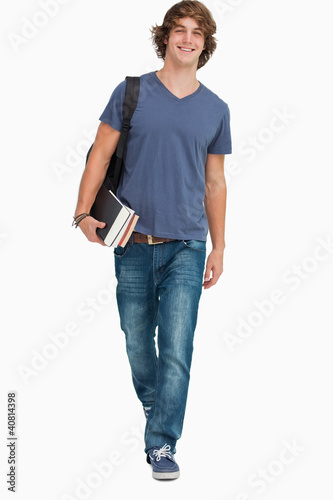 Preise
Information
Beschreibung
Größe (?)
Pixel / Zentimeter
Preis
Download

Credit Download

XS Standard

283 x 424 (0,1 MP)

10,0 cm x 15,0 cm (72 dpi)

1 Credit
S Standard

566 x 849 (0,5 MP)

20,0 cm x 30,0 cm (72 dpi)

3 Credits
M Standard

1125 x 1688 (1,9 MP)

9,5 cm x 14,3 cm (300 dpi)

6 Credits
L Standard

1571 x 2356 (3,7 MP)

13,3 cm x 19,9 cm (300 dpi)

8 Credits
XL Standard

2280 x 3421 (7,8 MP)

19,3 cm x 29,0 cm (300 dpi)

10 Credits
XXL Standard

3744 x 5616 (21,0 MP)

31,7 cm x 47,5 cm (300 dpi)

12 Credits
Erweiterte Lizenz

3744 x 5616 (21,0 MP)

31,7 cm x 47,5 cm (300 dpi)

100 Credits
Laden Sie dieses XXL Bild im Abonnement für nur

0,16 €

herunter!
Abonnieren
Autor
WavebreakmediaMicroPortfolio ansehen
Bildnummer
40814398
Land
Irland
Repräsentative Kategorie
Menschen Ohne Kontext Mann
Konzeptionelle Kategorie
Menschliche Merkmale Positiv Sensibilität
Keywords

["backpack","b\u00fccher","front view","gehend","holding","jung","l\u00e4chelnd","mann","studenten","studio shot","white background"]

backpack bücher front view gehend holding jung lächelnd mann studenten studio shot white background
Das Foto "Front view of a student walking with a backpack and books" von WavebreakmediaMicro ist bei Fotolia lizenzfrei schon für 1 Credit erhältlich (ab 0,74 € pro Credit).
Dieses Foto ist als JPEG erhältlich und kann für zahlreiche professionelle Zwecke (mehr Info) und in verschiedenen Auflösungen (bis zu 3.744 x 5.616 Pixel bei 300 DPI) heruntergeladen werden.
Der Anbieter dieses Bildes WavebreakmediaMicro hat noch 361 Bilder mit dem gleichen Model und 2.980 Bilder aus der gleichen Serie.
Um dieses Foto herunterzuladen, können Sie Fotolia Credits kaufen oder ein Abonnement abschließen. Im Abo gibt es Bilder schon ab unglaublichen 0,16 € pro Bild!