#40803906 -
Smiling teenager looking at the camera while showing the OK sign
© WavebreakmediaMicro

- Portfolio ansehen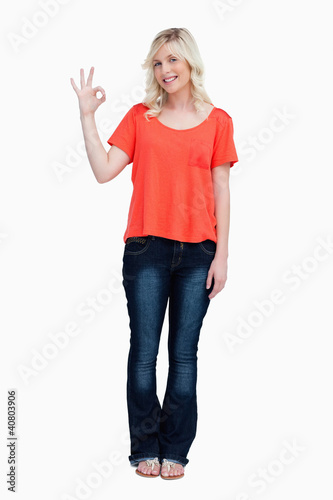 Preise
Information
Beschreibung
Größe (?)
Pixel / Zentimeter
Preis
Download

Credit Download

XS Standard

283 x 424 (0,1 MP)

10,0 cm x 15,0 cm (72 dpi)

1 Credit
S Standard

566 x 849 (0,5 MP)

20,0 cm x 30,0 cm (72 dpi)

3 Credits
M Standard

1125 x 1688 (1,9 MP)

9,5 cm x 14,3 cm (300 dpi)

6 Credits
L Standard

1571 x 2356 (3,7 MP)

13,3 cm x 19,9 cm (300 dpi)

8 Credits
XL Standard

2280 x 3421 (7,8 MP)

19,3 cm x 29,0 cm (300 dpi)

10 Credits
XXL Standard

3744 x 5616 (21,0 MP)

31,7 cm x 47,5 cm (300 dpi)

12 Credits
Erweiterte Lizenz

3744 x 5616 (21,0 MP)

31,7 cm x 47,5 cm (300 dpi)

100 Credits
Bilder in Größe M schon ab 0,50 €!
Laden Sie Bilder in der Größe M oder XXL, Vektor-Dateien oder Videos innerhalb eines Monats mit unseren monatlichen Abonnement-Paketen herunter!
Autor
WavebreakmediaMicroPortfolio ansehen
Bildnummer
40803906
Land
Irland
Repräsentative Kategorie
Menschen Ohne Kontext Frau
Konzeptionelle Kategorie
Gefühle & Emotionen Glück Freude
Keywords

["abmachen","attraktiv","ausdruck","charmant","eins","erfolg","erfolgreiche","finger","frau","freude","freudig","freundlich","gesicht","gesten","hand","hell","h\u00fcbsch","isoliert","ja","jung","l\u00e4cheln","l\u00e4chelnd","nett","okay","optimistisch","person","positive","schauend","sch\u00f6ner","selbstsicher","symbol","zeichen"]

abmachen attraktiv ausdruck charmant eins erfolg erfolgreiche finger frau freude freudig freundlich gesicht gesten hand hell hübsch isoliert ja jung lächeln lächelnd nett okay optimistisch person positive schauend schöner selbstsicher symbol zeichen Alle Keywords einsehen
Das Foto "Smiling teenager looking at the camera while showing the OK sign" von WavebreakmediaMicro ist bei Fotolia lizenzfrei schon für 1 Credit erhältlich (ab 0,74 € pro Credit).
Dieses Foto ist als JPEG erhältlich und kann für zahlreiche professionelle Zwecke (mehr Info) und in verschiedenen Auflösungen (bis zu 3.744 x 5.616 Pixel bei 300 DPI) heruntergeladen werden.
Der Anbieter dieses Bildes WavebreakmediaMicro hat noch 250 Bilder mit dem gleichen Model und 24.039 Bilder aus der gleichen Serie.
Um dieses Foto herunterzuladen, können Sie Fotolia Credits kaufen oder ein Abonnement abschließen. Im Abo gibt es Bilder schon ab unglaublichen 0,16 € pro Bild!